AC DC TIG Series Inverter Welders
AC/DC TIG SERIES WSE SERIES INVERTER SQUARE WAVE TIG WELDER ( An ISO 9001:2008 Certified Company )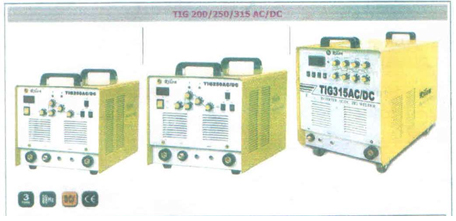 AC/DC TIG SERIES WSE SERIES INVERTER SQUARE WAVE TIG WELDER
Upgrade square wave power source current with high speed through the zero, arc is stable no high frequency stabilizer is necessary.

Good are stiffness, heat concerntrated, easy to fill wire, is especially suitable for filler wire welding in bicycle industry.

Super oxide film clean capability, clean time is adjustable steplessly, beutiful and bright welded seam.

Has connected to foot control, convenient for workers operation.

Build in over heat, over voltage, low voltage alarm protection circuit, safe and reliable when operating.

High duty cycle, may work continuously with high current.

Suitable for welding aluminum and its alloy, carbon steel, staneless steel, copper, titanium etc metal.

TIG 200 AC/DC
TIG 250 AC/DC
TIG 315 AC/DC
Rated Input
220V/28A
440V/9.7A
440V/13.6A
Rated Output @Duty Cycle
18V/200A@60%
20V/250A@60%
23V/315A@60%
Output Range/Phage
5-200Amp - Phs
5-220Amp - 3 Phs
5-315Amp - 3 Phs
Open Circuit Voltage
56V
45V
45V
Efficiency
0.8
0.85
0.85
Dimesion (MM)
498 * 328 * 302
560 * 364 * 430
560 * 364 * 430
Net Weight
20 Kg
20 Kg
34 Kg
Arcing Way
HF
HF
HF